Litter B
DoB. 05.02.2022 01:40pm / 01:51pm / 03:21pm
Queen: N.W. 20/21 Int. Ch. Azreal Warushka Wielka – "Wari"
Breeder: Leanne Hewitt – ZA
Owner: Diana Mangel – AT
Stud: Ch. RBCat Biskvit *RUS – "Biskvit"
Breeder: Irina Grishina – RU
Owner: Irina Grishina – RU


# 1 – girl (104g)
# 2 – boy (64g)
# 3 – boy (108g)

Both parents were tested for luxating patellas, HCM and PKD.
05.03.2022
4 weeks passed already and both kittens are developing excellently.
Today they received their pedigree names:
Aurora Blue = Cattery name, each kitten bred in my cattery will receive this name
Biskvitovich/Biskvitovna = Patronymic (a component of a personal name based on the given name of one's father)


#1 Aurora Blue Baroness Biskvitovna – NESSI
#3 Aurora Blue Baikal Biskvitovich – BAIKAL

Baroness - After searching for a Russian or African name beginning with B for a long time without success, I accidentally found this name.
During a walk in the forest with my Russian friend, we always make a little stop with sparkling wine and nuts, it came like a sudden thunderclap! I saw the label of the sparkling wine we were drinking – "Baronesse"!
Quite an unusual way, but that's how my little girl got her name. She has inherited her mother's strong personality and is very curious and interested in everybody and everything. Plus, she loves to tease her little brother Baikal.

Baikal – Baikal is named after Lake Baikal in Russia. It is the world's largest freshwater lake by volume as well as the world's deepest lake and finally one of the world's clearest lakes.
Being the heaviest kitten I've ever had so far, weighting 640g being only 32 days old, this name fits perfectly. According to his paws he will be a huge boy and he is having already a dense and plush dark blue coat. He is our chill-out boy, preferring mommas' teats and resting most of the time.
10.02.2022
Unfortunately, there aren't only nice moments in breeding. #2 (boy) has been losing weight for 2 days and even supplementing wasn't working at all. After a check-up at my Vet, we decided to let him go peacefully and euthanised him. He had problems with his digestion and could not absorb food and the so important nutrients. Letting a cat go is one of the hardest decisions a breeder has to make, but one should always decide what is best for the animal! Rest in peace "Mr. Tiny"!
05.02.2022
After more than 30h of preterm labour, Wari gave birth to her first kitten this afternoon (day 67) at 01:40pm. A healthy girl – weighing 104g. Only 10 minutes later, #2 – a boy - was born. With 64g he is the lightweight in the group, but he drinks well and is also looking healthy. Finally, after about 1.5 hours, kitten #3 - also a boy - was born. With 108g he is the heaviest and biggest in the group.
Although it can be long-lasting, witnessing a birth is always a new adventure and a great experience! Wari and the kittens are doing very well and are now recovering from the "stress and strain" of the birth.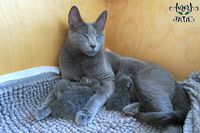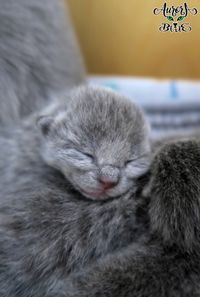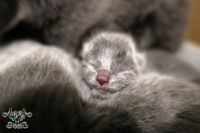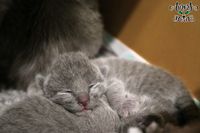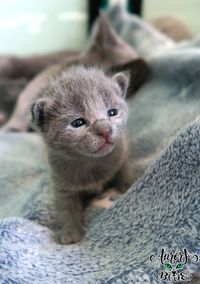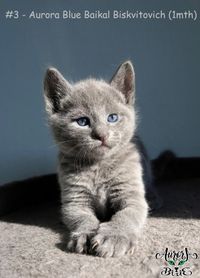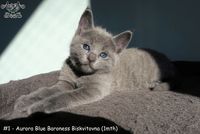 Wari with kittens - Day 33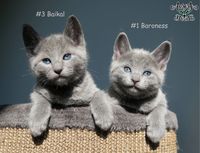 Baikal & Baroness - Day 43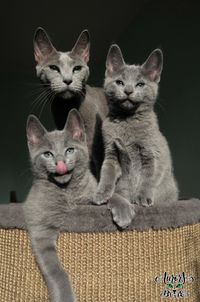 Family picture - Baikal & Baroness 2 months old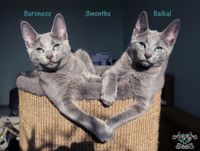 Baroness & Baikal - 3 months old