"Corona"-litter
DoB. 10.06.2020 - 00:00am

Queen: Int. Ch. Azreal Warushka Wielka - "Wari"
Stud: Abyssinian (the name won't be published in order to protect the breeder)
Russinian-Kittens: 1x girl, 1x angel
Both parents were subjected to a blood test, an examination of the luxating patella and a HCM sound/genetic testing. 
28.04.2021
Today we visited Athena and her new family. Athena integrated very well and was warmly welcomed by her sisters Luna and Allegra and also her owners are very happy with her. Athena has developed into a beautiful elegant cat and her face is 100% Abyssinian.

26.10.2020
Today it is time to say goodbye. We have brought Athena to her new family. She was eagerly awaited. Her first impressions in her new home were very positive. The toilet was found immediately, her new owners were allowed to stroke and pick her up within the first hour and her new sisters Allegra (Maine Coon 13 years old) and Luna (European Housecat 1,3 years old) were joyfully welcomed . We wish Athena and her new family all the best and hope that they will live happily together.
As a breeder I am super happy with my decision and I am glad that Athena got such a great family. We are looking forward visiting them in December. 
13.08.2020
Aurora Blue Spirit of Ubuntu (Athena), has already been visited by her new family. She will move to Burgenland at the end of October and will join two cats, named Luna (European domestic cat) and Allegra (Maine Coon).
10.06.2020
In the middle of the night our pretty Wari gave birth to her kittens. Unfortunately the 1st kitten was only allowed to experience a few moments and died shortly after birth. We will never forget you little angel. You will stay forever in our hearts and watch over us as a star in the sky!
Kitten no. 2, a girl, was born healthy and lively head first. She immediately started to drink eagerly and has been developing exemplary since then.


We named her "Spirit of Ubuntu".
This refers to a South African basic attitude, which is based above all on mutual respect and recognition, respect for human dignity and the striving for a harmonious and peaceful society, but also on the belief in a "universal bond of sharing that unites everything human". In the Ubuntu philosophy, one's own personality and the community are closely related.

Why such an exotic name?
Because both parents are related to Africa - the queen was born in South Africa and the stud, being an Abyssinian, originally comes from Abyssinia, today's Ethiopia and Eritrea.


Why "Corona" litter?
Due to the lockdown caused by Corona pandemic, the mating plans had changed and we chose an Abyssinian stud from Austria. Therefore this litter is an unregistered litter, but however it turns out to be a litter of true love!
A very nice statement of my vet was:
"Welcome little cutie. You are very special. You emerged from true affection of your parents in uncertain times. You enabled your mom to follow her natural instincts."
As my mentor says, "You can't plan breeding!"

The Corona pandemic confronted us with a very difficult situation, that despite all the doubts and contradictions, worked out very well.
Nevertheless, I would like to point out again this was an exceptional situation and this type of litter is unique and never to be repeated!
Finally I would like to thank my mentor, the breeder of Wari, the breeder of the stud as well as my vet very much. They supported me through the whole process of this litter and therefore made this possible at all!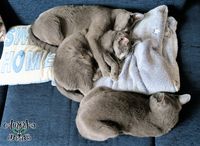 Yuri and Jascha supervising pregnant Wari.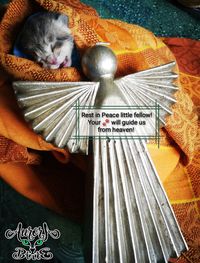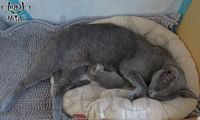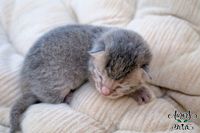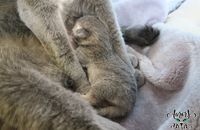 3rd day of life - very hungry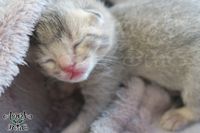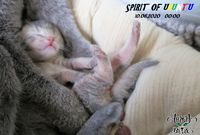 Day 4 - We named him "Spirit of Ubuntu"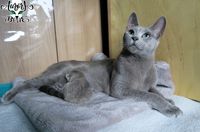 Day 9 - proud and beautiful mum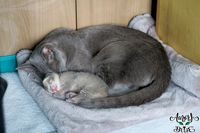 Day 9 - Endless mother love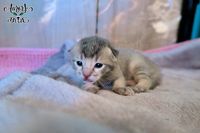 Day 11 - The eyes are open