Litter A
DoB. 25.03.2021 - 04:38am/11:18am & 26.03.2021 - 07:43pm
Queen: Int. Ch. Azreal Warushka Wielka – "Wari"
Breeder: Leanne Hewitt – ZA
Owner: Diana Mangel – AT


Stud: Eur. Gr. Int. Ch. Tyana Czar Luhezar – "Louie"
Breeder: Sally Briton – AU
Owner: Maartje Schoenmaker – NL



# 1 – boy (75g)
# 2 – boy (70g)
# 3 – boy (113g)


Both parents were tested for luxating patellas, HCM and PKD.  
03.08.2021
4 months of joy, adventures, playing games, taking pics passed by sooo quickly!


On 30th July, Addo and Akim moved to their new home. They settled in very well and already boss their new humans! Well done boys!  
Akim, 4 months old, 2.10kg
Beautiful Akim, owning the cautiousness of momma Wari and being the most excessive cuddler I've ever had by jumping into the stroking hand.


 Addo, 4 months old, 2,30kg
Loose Addo, owning the relaxation of daddy Louie, always being ready for playing with the kids of our visitors and having the plushest coat of this awesome triplet. 


2nd August Arsenij moved to his new family and his 1,5year old Thai brother. He proved again how special he is. Within 5 hours after arriving, he already started to cuddle and sleep together with Heinrich. This was such a beautiful confirmation for me to see how two complete strangers can engage with each other and develop a lifelong, intimate friendship.

Arsenij, 4 months old, 2,18kg
Fearless Arsenij, loves doing "flight-sessions" with human mum via show position, super photogenic and the most human-related boy I know so far.
 
It's always hard saying farewell but the pics and videos receiving from their loving and caring families are a big confirmation for me that I decided right. I wanna thank all breeders and friends involved creating this absolutely beautiful litter and supporting me and my gut feelings. 


06.05.2021
6 weeks passed already and the boys are developing really great.
3 weeks ago, they received their pedigree names:
Aurora Blue = Cattery name, each kitten bred in my cattery will receive this name

Luhezarovic
 = Patronymic (a component of a personal name based on the given name of one's father)
#1 Aurora Blue Akim Luhezarovic – AKIM
#2 Aurora Blue Arsenij Luhezarovic – ARSENIJ
#3 Aurora Blue Addo Luhezarovic – ADDO
Akim (rus.) – Akim is an old UDSSR name.Akim's have willpower, courage and can be impulsive. The meaning is created from god. 
Akim's coat has become very light - he is now our Mr. Silver. Moreover, his head shape has developed great. He is an affectionate climber and loves to play with his flummies. He is cautious with strangers and prefers to hide or watch them from a safe place. If Akim decides to come for playing or cuddling, he literally adores you with his blue eyes. Finally once Akim has fallen asleep, he is in "deep-sleep-mode" and nothing can wake him up.
Arsenij (rus.) – Arsenij is a Russian name too meaning manly/masculine and brave.


Arsenij is our little hooligan as he loves to fight with his brothers. Although he is the smallest one, he is the biggest macho and therefore his name lives up to it. He is already very affectionate towards human. When I am entering the teenager playground he welcomes me immediately by giving me cuddles and afterwards wants to play with me. Occasionally, during play he suddenly stops to move on my lap because he has fallen asleep.
Addo (afr.)
- Addo is an African name.
This name is dedicated to Wari's breeder Leanne.


In South Africa there is Addo Elephant NP. In 1931 it was proclaimed to protect the remaining 11 Addo elephants in South Africa. Today they are keeping more than 600! 
My major aim of breeding is to keep special and healthy Russian Blue lines alive and to protect them, like Addo NP did with the elephants.
Addo is our giant. He is by far the biggest and also the heaviest kitten in the group - quite a daddy. Addo is always first in acquiring new behaviours such as using litter box or eating wet food. His coat is dark grey and very dense which makes it really plush.
In these 6 weeks, a lot has already happened. The boys are all able to use the litter box and Akim & Addo are already eating solid food (wet food). Arsenij is still using the milk bar of momma Wari. The boys are now allowed to explore the living room and the kitchen during the day, as they have already broken out of their "playroom" several times. Uncle Yuri and Jascha have witnessed all the hustle and bustle from the beginning, but still keep their distance from the impetuous little "beasts". 
02.04.2021
Today our trio is already 7/8 days old. They are all healthy and have weathered the first week well. Wari is on the one hand a very caring mother, but on the other hand also very modern enjoying her freedom while boys are asleep. She uses her rare spare time with sunbathing at balcony or cuddling with human mum.


Concerning the look of Kittens #1 and #3 are very much like their daddy - big with plush dark coat. At moment #3 is beating all records in size and weight. #2 is more alike momma - neat build with nice silver shimmering coat. Regarding character, #2 is a fighter, he defends his teat relentlessly with great success, #1 is the inconspicuous one and #3 is our grouchy boy, very quickly pissed off everything and everybody. All in all a very diverse trio and I am super excited of how they will develop the next weeks.

Finally, I am again very grateful for the support of my mentor (also owner of the stud), Wari's breeder, my vet and my family. Without them this litter would not have been possible. 
25.03.2021
After a choppy night Wari gave birth to her first kitten this morning (day 64) at 04:38am- -a boy 75g of weight and completely healthy. 6h later boy #2 was born. With 70g he is the lightweight in the group, but he drinks like a big one and is also fully healthy. Our surprise - boy #3 was born with 39h delay on 26.03.2021 at 07:47pm (day 65). With 113g he is the most solid and biggest of the trio. 
A
lthough it can be long-lasting, witnessing a birth is always a new adventure and a great experience! The kit
tens and Wari are doing very well and are now recovering from the "stress and strain" of the b
irt
h.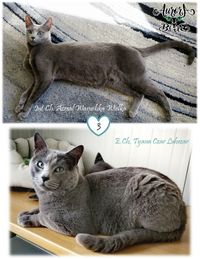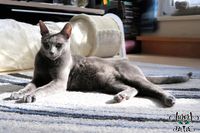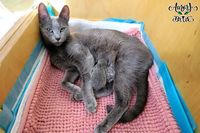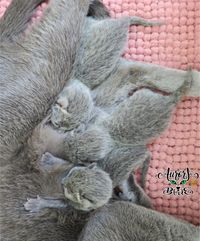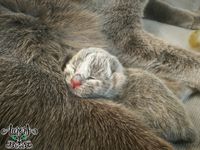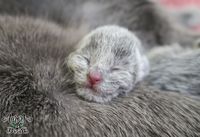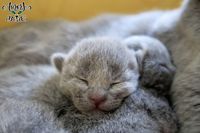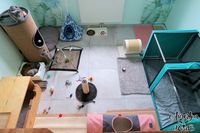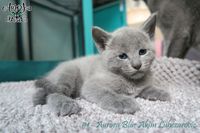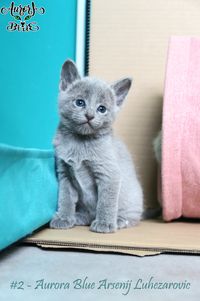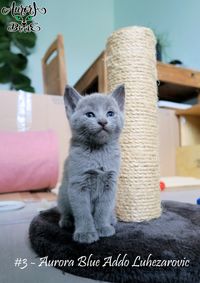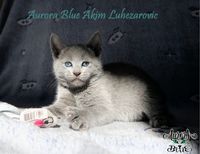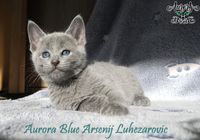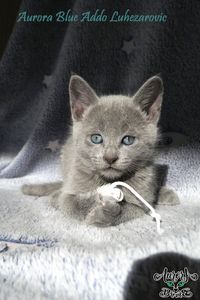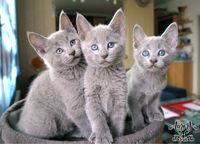 Addo - Akim - Arsenij 7 weeks