Litter C
DoB. 22.03.2023 - 05:00am/06:15am
Queen: N.W. 20/21 Gr. Int. Ch. Azreal WArushka Wielka – "Wari"
Breeder: Leanne Hewitt – ZA
Owner: Diana Mangel – AT
Stud: Gr.Ch. Sithee Flying Solo – "Solo"
Breeder: Catherine Kaye – UK
Owner: Angela Cooper – UK


#1 - girl (115g)
#2 - girl (110g)
#3 - girl (130g)


Both parents were tested for luxating patellas, HCM and PKD.
22.04.2023
Today my C-litter kittens turned 1 month old. They are develloping excellently and therefore I like to introduce the names of my "strong-iconic" girls:

Aurora Blue = Cattery name, each kitten bred in my cattery will receive this name
Solovna = Patronymic (a component of a personal name based on the given name of one's father)

#1 Aurora Blue Chira Solovna - CHIRA
#2 Aurora Blue Coco Solovna - COCO
#3 Aurora Blue Cleopatra Solovna - CLEO


Chira - The name originates from the musical "Xanadu". Kira is one of the Muses.

Coco - Coco was named after the french fasion designer Coco Chanel
Cleo - The last strong and iconic women is Cleopatra - Queen of the Ptolemaic Kingdom of Egypt
22.03.2023
In the early morning Wari gave birth to the C-litter kittens (day 68). The first Kitten was born at about 05:00 am - a girl. At 06:15 am #2 and #3, both girls, were born almost at the same time. The kittens are doing well, all weigthing over 100g and being healthy. Wari coped the birth excellently and is also doing well.
Although it can be long-lasting, witnessing a birth is always a great experience and an instructive adventure!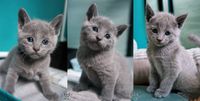 Litter C (1 month old) - Chira/Coco/Cleo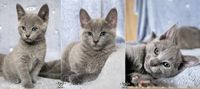 Litter C (2 months old) - Chira/Coco/Cleo